Currently viewing the tag: "YouTube Leanback"
YouTube Leanback has received a small update to include support for personalized channels, allowing for a greater level of customization in the Leanback experience. These channels will be driven by videos a user has watched in the past, which is tied to their YouTube account. The accuracy of the predictions will increase as the user watches more videos, but it's already causing some folks to be concerned with the fact that Google is going to track the videos they watch.
Continue reading after the break to check out a video demonstration of Leanback's new custom channels, and leave us a comment below and let us know what you think there is a privacy issue. You can also check out the official YouTube blog post for more information.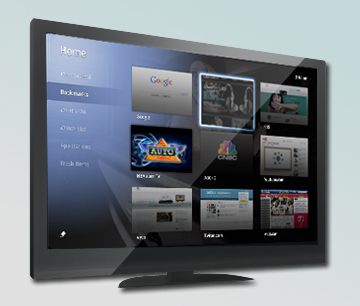 So you've got your Google TV up and running and now you're ready to delve into the internet-TV experience; but what exactly should you do? Well, the official Google TV blog has come up with ten useful suggestions to get the most out of your Google TV experience. Read on after the break!
YouTube has announced the release of YouTube remote to the Android Market, which allows you to control YouTube Leanback on Google TV from your Android device. The application is similar to Apple's Airplay in the sense that you can continue playing a video you're watching on your phone when you come in range of your Google TV device.
It connects to your Google account, and then when YouTube remote detects that you've opened a YouTube app on another device (be it your computer or Google TV), it will automatically start playing on that device. This feature can be turned off in the application if you would like to tell it manually when you would like to continue watching on a different device.
The application is free, and is available now in the Android Market (or scan the QR code below). Also, be on the lookout for a mini review of YouTube Remote in the coming days.
[via TechCrunch]
Well, well, what do we have here? Not to be outdone by YouTube, Vimeo has released their own version of Leanback they're calling "Couch Mode".  The name alone implies that it works great on Internet TV devices like Google TV, and Vimeo has in fact optimized it for GTV and has announced it will appear in the Spotlight section soon.
The new service makes use of a lot of CSS and HTML5, so no Flash to be found here. We'll do more of an elaborate rundown later today after we've had a chance to play with this a bit more, but you can start using this right now by visiting: vimeo.com/couchmode
Also, if you're using Google TV and have had a chance to play with this, leave us a comment below and tell us what you think!
[via Vimeo Blog]


Continue reading »
Source:
Lifehacker
| via
SimplyGoogleTV
Google has a vision for Google TV which goes beyond just being able to search both online and within your cable or satellite providers hardware for what you want to watch. The search giant is also hoping that Google TV will become a social experience where friends and family can gather around in the living room and share their favorite videos, photos and websites. Most people have shared a YouTube video in an email or on a friend's Facebook page at one time or another , which will be a breeze on Google TV thanks to the Android Market. However, a new web application called Dragontape, which allows users to drag and drop their favorite online content into sharable playlists, is poised to take sharing video on web-connected devices like Google TV to the next level.
There's a lot of great stuff on YouTube, enough to lose yourself for hours watching related and unrelated content. The recently announced YouTube Leanback solves the problem of having to choose between related videos after each one is complete, but what if you want to assemble your own string of related videos for your own personal use or to share with friends and family?
That's where Dragontape comes in. The application is still in beta and is lacking some major features like embedding and the ability to search multiple video sources (YouTube is currently the only option), but there are several nice features already built in, including a variety of social media options for sharing and the ability to retrieve and edit past projects. However, the company has announced future support for Vimeo, Dailymotion, Metacafe, and other sites.
The interface seems quite stable and easy to navigate, although there were several errors and crashes during testing. At this time, the application is run entirely in Flash, but IE and HTML 5 support is in the works. Here is the link to the test playlist assembled using various Google TV clips
Overall, this application has some great potential if certain key elements like the ability to embed are added later on. The social aspects are already in place, and this and other applications like it are exactly what Google hopes will be utilized by Google TV users. We look forward to seeing the finished product, and hopefully next time we visit Dragontape we can embed the final result for you.
Source:
PC Magazine
Earlier today, YouTube launched an experimental new service called "Leanback," which will allow users to simply enter a search term and watch continuous content based on those keywords, in a manner very similar to the usual TV experience. The service is therefore targeted towards TV viewers, and will surely become a part of Google TV at some point in the future. Leanback was announced the same day YouTube rolled out its revamped YouTube Mobile site, which has added a vast array of new HTML5 support, in contrast to the Flash-based Leanback.
The most obvious contrast between traditional YouTube and Leanback, as previously mentioned, is the concept of seamless integration between pieces of content based on keywords. Unlike the usual experience, where you have to continously chose what to watch next, with Leanback YouTube will do the thinking for you, basing the flow of content on similar videos, what the user has liked or disliked previously, as well as content the user has uploaded.


Leanback will benefit from an extremely simple control process in which traditional arrow keys will determine navigation, while the "enter" key will control playback. Because of this, Leanback will be versatile across all platforms, be it on the Web, mobile devices, or TV.
There has been no official announcement of a mobile app as of yet, but the ultimate goal, according to Kuan Yong, a Leanback project manager, is for users to be able to continue along with the experience on any device from where they last left off. For example, you are watching Leanback on your TV, but need to pause the video and go to the store. While standing in line at the checkout, you could continue watching for a few minutes, and later return yet again using either your TV or computer.
Additionally, it has been made clear that, for the time being at least, advertising will not be brought into the equation, and while options for monetizing Leanback are being explored, the initial experience will be ad-free
Leanback is currently in testing phase, and can be demoed via the YouTube TestTube site.